Digital Paper Tablet Solution for Business
The Digital Paper Tablet Solution is a customizable ePaper workflow for various business needs. It can help review documents, collect data, or take notes with ease and efficiency. Our customized solution includes:
White label tablets in two sizes: 10.3" and 13.3"
Integrated applications and development tools
Technical support and hardware logistics assistances
The ePaper tablets are thin, flexible, and durable, and is integrated with E Ink Carta™ 1250 display technology and Wacom's battery-free EMR digital pen. They offer a natural and comfortable writing and reading experience, with high contrast, low latency, no glare, and extended battery life.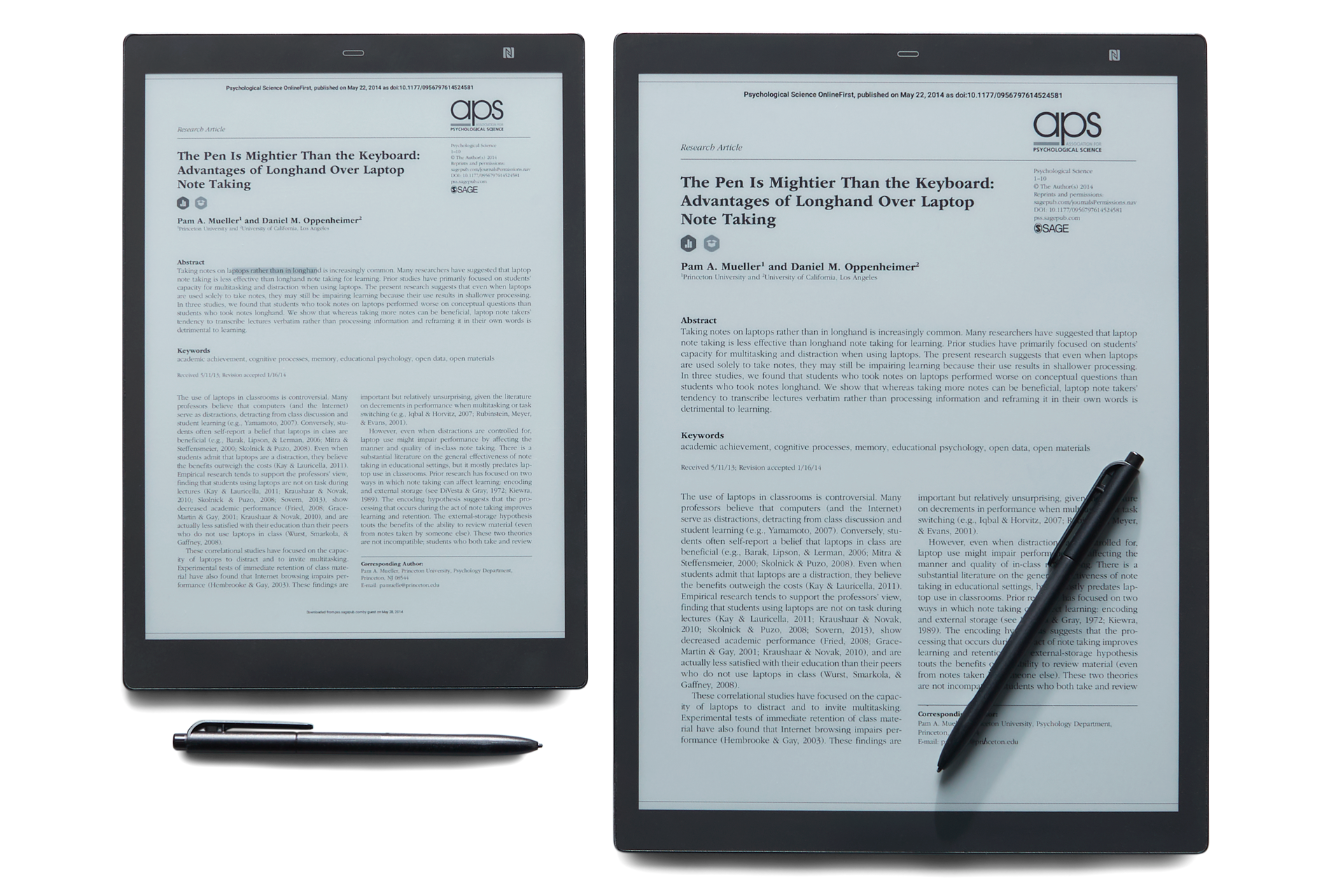 ---
Features and Benefits
Paper-like reading and writing with a glare-free display and a non-slip, non-glass surface
Sync and secure your data with cloud and wireless capabilities
Fill in and access digital forms, annotate, highlight, and erase documents
Thin, lightweight, and durable ePaper tablet with up to three weeks of battery life
---
Industries
Given the applications of secure digital note taking, the Digital Paper Tablet has use cases across industries including, legal and financial services, scientific and technical services, healthcare and hospitals, field service management, corporate training and HR management, and publishers.
---
Development, Technical, and Logistical Support
Our end-to-end solution consists of white box unbranded tablets, integrated applications, development tools, technical support, and hardware logistics assistance. We'll work with you to understand your desired workflow and then determine the most efficient process for developing a custom Digital Paper experience for your employees, students, or customers.
The Digital Paper tablet is a device that runs on a standard Android OS and can display content from Android apps, PWAs, or web apps
Developers can use various tools and guides to optimize their applications for the tablet, such as Android APK tools, UI design guide, programming guide, waveform guide, and PWA design guide
Developers can also use the Kitting Tool user guide to customize the tablet's functionality, such as installing apps, changing settings, and updating firmware
Technical support and logistics support are provided by Avalue Technology and E Ink Holdings, either online, via email, web conference, or through third party logistics providers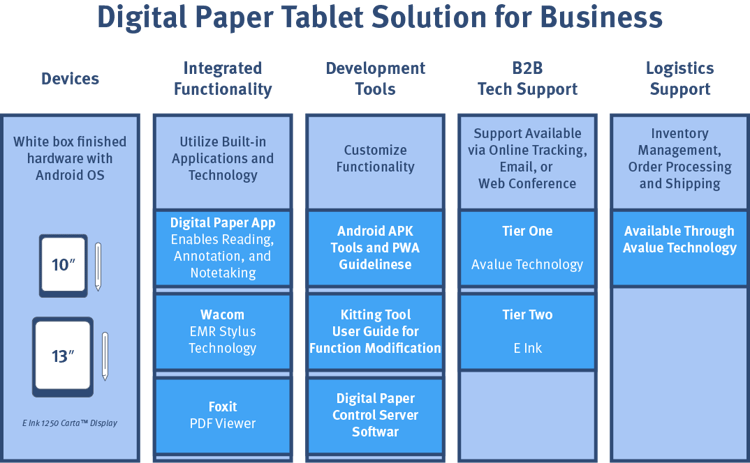 Document Management Service File Transfer Integration
Create or optimize an Android DMS app for the Digital Paper tablet that lets users sign in, access their files, and use the tablet's reading and writing features. Users can easily sync their documents or notes with the DMS service. We offer a DMS File Transfer Application Tool Kit and technical support to help you with this task. We can also recommend a trusted mobile app development company if you need one.
Digital Paper Control Server Software
With the Digital Paper Control Server Software, administrators can manage document workflows to and from individual Digital Paper tablets or entire fleets of tablets, for example, disseminating daily work orders to a mobile workforce. You can install it on Windows or Linux servers, remotely manage PDF documents and tablets using Web APIs, and control functions such as send, retrieve, open, rename, and more.
---
Specifications
Display: E Ink Flexible e-paper display

13.3 inch Resolution 1650×2200 dots, 16 gray scale, 207 dpi
10.3 inch Resolution 1404×1872 dots, 16 gray scale, 226 dpi

Touch Panel+ EMR sensor: Capacitive Touch Panel sensor

Electro-Magnetic Resonance-type touch pen input [4096 levels of pressure sensitivity]

SoC: i.MX 8M mini (Quad-core Coretex A53 1.8GHz)
Storage memory: eMMC

32GB / Useable area 24GB

Enables users to access up to 10,000 PDF documents (1MB PDF file/1 file)

Interface: USB 2.0 Type C
Support file format: PDF (.pdf)
Wireless:

IEEE 802.11a/b/g/n/ac (WAVE2)
MIMO 2.4GHz/5GHz

Bluetooth Ver.5.0
NFC: 13.56MHz / FeliCa
Lithium ion battery: 2000mAh
Battery life:

3 weeks (light user scenarios)
5 days (heavy user scenarios)

Operation/Storage Temperature: 0°~ 40°C / -3°C ~ 35°C
Size (W x H x D):

13.3 inch 222.8 × 301.1 × 5.7 mm
10.3 inch 175.5 × 244.2 × 5.85 mm

Weight:

13.3 inch 368g
10.3 inch 261g

Accessories: Wacom standard stylus pen, USB C type cable (1.5m), Pen tips, Puller
---
Yes, please contact me...