Digital Paper to Deliver Timely and Efficient PX Upgrades in the New Normal
Replay of the Breakout Session at The 2021 Beryl Elevate PX Digital Conference.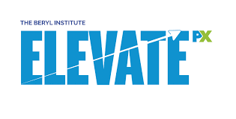 Watch Any Time!
Join this session with Jason Friedman from eVideon, Mohammed Adrian Hasdianda from Brigham and Women's Hospital, and Jennifer Su from E Ink where they'll discuss the importance of clear and accurate information communication in the healthcare system. Communication errors are among the top 10 complaints from patients today and precautions due to COVID-19 in healthcare facilities has made it even more difficult. Brigham and Women's Hospital is implementing a cohort study with E Ink and eVideon to investigate the use of low energy, lightweight Digital Paper virtual whiteboards to improve communication to patients in the emergency department (ED). Hospitals using Digital Paper displays say that they have saved money while improving workflow efficiency, and that patients and clinicians have improved experiences.
ELEVATE PX is a virtual gathering bringing together the voices of the global community committed to elevating the human experience in healthcare. ELEVATE PX is a dynamic, interactive event connecting the community for learning, support and the sharing of ideas to positively impact the experience in healthcare organizations around the world.
The Beryl Institute is a global community of over 55,000 healthcare professionals and experience champions committed to transforming the human experience in healthcare. As a pioneer and leader of the experience movement and patient experience profession for more than a decade, the Institute offers unparalleled access to unbiased research and proven practices, networking and professional development opportunities and a safe, neutral space to exchange ideas and learn from others.
Who will benefit from watching?
Healthcare clinicians
Healthcare operation managers
Healthcare IT professional
Healthcare digital solution providers
Nurse Leaders
IT integration service
Audio & Video professionals
& anyone interested in improving healthcare!
Session Leaders:
Jason Friedman - VP Sales East at eVideon
Mohammed Adrian Hasdianda - esearch Fellow in Emargency Medicine at Brigham and Women's Hospital
Jennifer Su - Senior Manager of Strategic Partnership at E Ink